Virile Heroes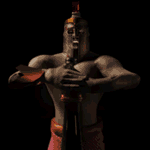 (I do respect that every adult has the right to decide on moral or religious reasons to abstain from sex and only to practice it within marital boundaries. I am also not advocating pornography or passing any moral judgements. In this section I am mainly discussing the points of view of adult men and women, who date, are married or divorced, without prejudice or intended offence.)
Remember when I said men are an aggressive species? And women need to make peace with that? Well, men are also sexual creatures. And women can make love to that. Or leave. Their testosterone makes them men and their life libido is wired to their virility.
Just to recap on testosterone: The 23rd pair of our chromosomes determine the gender of the child. All foetuses are female originally, unless there is a Y-chromosome, which encourages the gonads to develop into testes instead of ovaries. The testes secrete testosterone, which alters the male's brain and body. I have explained before how this powerful Achilles-hormone primes the male body and mindset for battle.
Much the same happens, when he is primed for sex. They are more apt to risk taking, they think faster, but their judgement is impaired. (In the heat of the moment, men do not consider using condoms or long-term consequences of unwanted pregnancies.) Remember also they reach their sexual peak at about age nineteen, when the nucleus accumbens – the thrill centre of the brain – overrides the neo-cortex, which is the rational part of the brain, considering self-control. By the time he reaches age thirty, his testosterone production begins to decline and his risk taking becomes calculated and calibrated according to his physical and mental abilities.
Testosterone also promotes sexual fantasies, but if he is stressed out and ready for battle, the blood supply is rushed to the muscles required for fighting – the arms and thighs. In order for him to obtain and maintain an erection and achieve ejaculation – blood flowing to the phallus – he needs to be relaxed and in the parasympathetic nervous system. Men suffering from long-term stress have a low libido.
When he becomes aroused by what he sees, or what he imagines, the hypothalamus will signal the testes to release testosterone. This release may take several minutes or even hours before the testosterone has an actual effect upon his body, but the effect is powerful throughout the whole body, as testosterone docks in the receptors of almost all the cells in the body. Testosterone cannot be stored. Rivalry increases testosterone and even men watching sporting events have increased levels of testosterone. When a team wins, the fans will have raised testosterone levels and when the team loses, the levels drop. (That's why women should never say: Oh cheer up, it's just a game!).
Interesting facts about testosterone are that in some areas it requires an enzyme called aromatase found in the female oestrogen to activate it. Meat and beer contain oestrogen. Obese men with an elevated number of fat cells, may grow breasts, a syndrome referred to as gynaecomastia, for fat cells carry aromatase. When their testosterone levels drop, men become irritable, tired and depressed – and then they complain women are prone to hormonal mood swings!
On a physiological level men need sex, women don't. Women can live without sex for years. This is not to say they don't enjoy sex or don't want it. Many of them do, but generally they don't need it, in the sense that men need it. Men need it to feel alive, to feel like men. Needing it makes them vulnerable and some women capitalise on this vulnerability. They make the men feel ashamed of the fact that men need sex. Men deeply resent this. It's foul play.
Some women dislike sex, they find it distateful, painful or just an unpleasant duty. (Please bear with me, I am not referring to women who were molested or raped. That is a completely different, sensitive and tragic topic, which is not within the scope of this book.) I am refering to every day women who just don't like sex. Some of them just don't like their husbands. If you don't like pets, why would you buy one and share your home with one? Men are sexual.
If she does not like it, why does she waste her – and his – time by staying with him? "So are you saying if I do not give him sex, I should not be with him?" asked one married woman. "Sex is not something you give. It is something you share. If you don't want to share it with this man, then you should consider why," I answered. "Can't I take a pill to make him appear more sexy to me?" she asked. I happened to run into this particular man a year later. He was happily divorced. Other women suffer a temporary lapse in their attraction to their men. When the psychological undercurrent is sorted in therapy, they happily regain their attraction.
Women are definitely not obliged to sleep with every man they date, but it is a vital element in an adult relationship and a marriage, just as emotions are. Reciprocate, initiate, but don't neglect either component.
I once read a bumper sticker where the little stick woman said: No love, no sex. And the little stick man said: No sex, no love. Another slogan said: How can I love you if you won't lie down?